Tàllias e mesuras - màllia òmine - mallitettas standard (no ofertas)
Tàllias e mesuras - màllia fèmina - malliteddas standard (no oferta)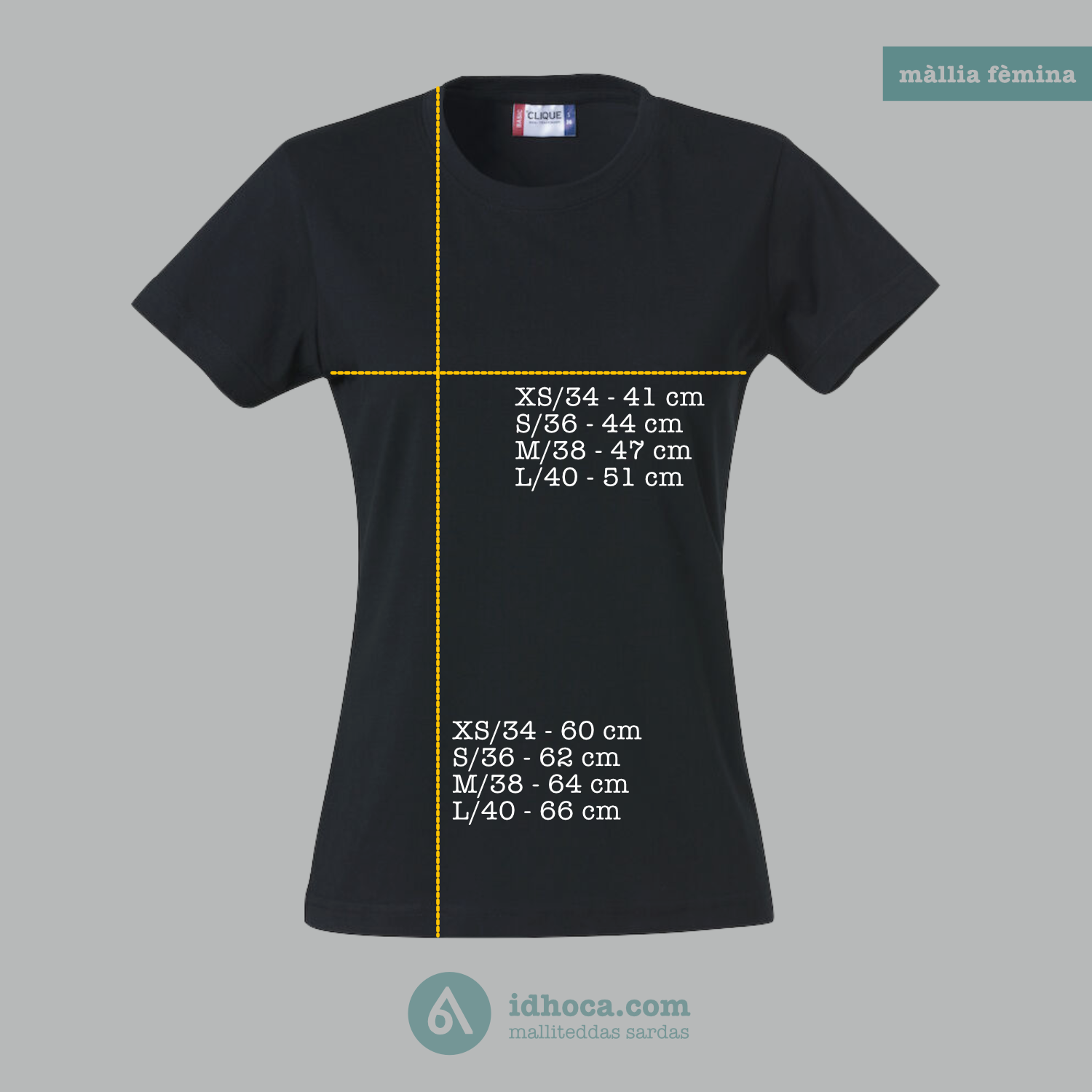 PREGUNTAS IN SARDU
Si tenes dudas, pistighinzos o crusidades asub'e s'atividade e is fainas nostras t'acuntzillamos de lèghere is preguntas chi sighent. Si no ses satisfadu o si no ses abarradu cuntentu pro su chi as lèghidu nos podes iscrìere, t'amus a torrare sceda in presse.
1) Su giassu bostru est seguru?
idhoca impitat su sistema Paypal chi est su leader de sos pagamentos online a livellu mundiale. Sos bersamentos acadessent pro mèdiu de is pàginas web suas e onzi informadura est amparada a tales chi su scàmbiu potzat acadèssere in sa manera prus bardiada possìbile.
2) In cale manera mi imbiaes is produtos chi apo comporadu?
idhoca impitat sa posta prioritària e is curreris espressos.
3) In cantu tempus retzo is produtos?
idhoca impitat a su màssimu duas chidas pro fàghere s'imbiu.
4) Deo cherzo imprentare apoddosos, mallieddas o manifestos cun gràficas mias. A si podet?
Eja! In custa pàgina podes iscobèrrere cumente fàghere. Si tenes abbisòngiu de un'agiudu gràficu pro disenniare is bideas tuas naralu a idhoca!
5) Proita no m'est arribada una ricevuta fiscale?
Is sitos de còmporas in sa retza no depent emìtere faturas e ricevutas fiscales. Depent scéti cumpilare is lezistros cuntàbiles. Si tenes bisòngiu de una fatura bae a sa pregunta nùmeru 6.
6) Chèrgio sa fatura, ita depo fare?
Iscrie-nos dae sa pàgina de is cuntatos, cun totu is datos pro t'aprontare sa fatura. No t'olvides de marcare s'indirìgiu cosa tua puru.
7) Chèrgio mudare sa tàllia de sa malliedda chi apo comporadu...
Idhoca est una realidade pitica, su cuntratu nostru cun su curreri est piticu puru. In custu sentidu is gastos pro furriare una malliedda faddida e pro nd'arretzire una noa sunt graes meda: 16 èuros. Ista atentu!
FAQ IN ENGLISH

If you have some tormenting doubt or some obsessive curiosity obout our activity and our way to work we suggest you to read the next FAQ. If you are not satisfied about the answers and you need more information you can contact us at any time.
1) Is your website safe for online payments?

idhoca uses the Paypal system which is the leader for online payments all over the world. Payments take place throught PayPal web pages and all the information is protected.
2) How products I buy will be sent to me?

idhoca will send them by post or courier.
3) How long will the delivery take?

Approximately 14 working days from the date of payment.
4)I 'd like to print stickers, t-shirts or posters with my own graphic. Is it possible?
Yes, of course! Just e-mail us with your own graphic and all the details about your order. We will e-mail you back the preview of the final work before printing. Once you agree for printing we'll go ahead.
5) Why have I not received the receipt?

For e-commerce sales it isn't compulsory to issue receipts or tax invoices. They must only fill in the account books. If you need the invoice, read question number six.
6) I want the invoice. How do I get it?

Send us an email from the contact page. Also do not forget to send us your address.
7) I'd like to change the size of the tshirt I've bought...
Idhoca is a small family run business so the courier prices are high. To exchange a mistaken order will cost you €16,00. Be careful.